Socket-Weld Flange
A Socket weld Flange ASME B16.5 is connected to pipe by a single fillet weld performed on the flange's outer side. Despite the fact that the socket weld flange differs from the slip-on flange, Which requires two welds. According to ASME B31.1, the execustion of a SW Flange Connection Using A Socket Weld Flange begins with inserting the pipe into the flange's socket until it reachers the bottom of the flange. This is the followed by a 1.6 mm lift and finally welding.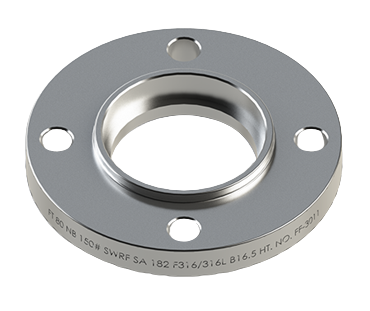 Specifications
Size: 15 NB - 600 NB
Class: #150 - #2500 / PN 10 - PN 400
Mfg. Std: ASME B16.5 / BS 10 / EN-1902
Mfg. Process: Forging / Plate-Cut / Solid Bar
Face : RF / RTJ / FF / T&G / LJF
Material: CS / SS / Nickle Alloy CS Alloy
Coating: Anti-rust / Hot Dip / Blackodizing
Testing: Chem. / Phy. / UT / NACE / IGC, etc.
Certification: BS EN ISO 10204 3.1 / 3.2
Get

in Touch

You will find yourself working in a true partnership that results in an incredible experience, and an end product that is the best.